Blue Frog Scientific offers a comprehensive Only Representative (OR) service package, in accordance with Article 8 of REACH, for non-EU companies that manufacture or formulate chemical substances and mixtures. 
Blue Frog Scientific recognises that appointment of an OR is a significant decision for a chemical company to make, as the relationship between a client and an OR is one that may be indefinite. 
It is also important for non-EU chemical companies to recognise the true scope of work that an OR is responsible for which is captured in the following conceptual model:
Image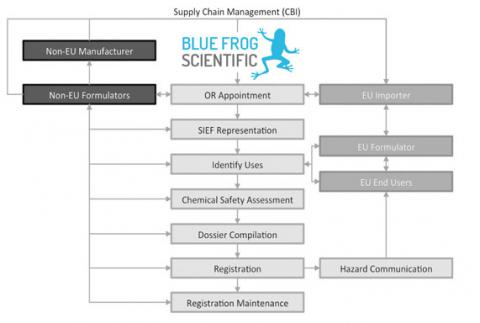 As an OR, Blue Frog Scientific is responsible for each chemical substance, with full legal liability, for the following:
Communicating the appointment of the OR to the EU importers, who must agree with the appointment and are   then considered downstream users under REACH;
Tracking of quantities of import into the EU throughout   the client's supply chain;
Data gathering and evaluation;
Management of confidential business information (CBI)  throughout the supply chain as a trustee (e.g. chemical uses throughout the supply chain);
Timely preparation and submission of a complete REACH Registration Dossier;
Maintenance of the Registration Dossier.
It is imperative that a non-EU chemical manufacturer or formulator with EU interests considers appointing an OR that has the right level of skill and experience to manage the portfolio of a non-EU chemical company.  In addition to the legal responsibilities and liabilities taken on by Blue Frog Scientific as an OR, our comprehensive REACH technical services can also support the completion of registration dossiers.
Blue Frog Scientific is a professional member of the Only Representative Organisation (ORO). An Only Representative "Best Practice Guide" can be found on the ORO website here. 
Third-Party Representative Services
Blue Frog Scientific offers third-party representative services to chemical manufacturers and importers in the EU. Blue Frog Scientific can represent an EU company within Substance Information and Exchange For a (SIEFs) and Consortia, for convenience or to maintain anonymity. Our comprehensive REACH technical services can also support the completion of registration dossiers.